Introducing our newest product from our on-farm commissary kitchen: grassfed tallow butter. Tallow Be Thy Name is a dairy-free tallow butter substitute. Whether you want to season a pan and cook with tallow butter, or slather a piece of meat in tallow butter after cooking, our dairy-free spread adds flavor to any dish.
What is grassfed tallow butter?
This animal-based grassfed tallow spread can be melted on steaks, chops, seafood, or used as a 1:1 replacement for butter in many recipes.

Tallow butter substitute versus other fats
Many of our customers on paleo, keto, or carnivore diets are interested in getting more fat in their diets. Unfortunately, processed oils and fats, even when labeled organic, are frequently produced through extractive agricultural systems.
Our grassfed tallow butter is made for the people who champion eating meat and animal-based products, and also want to support humane and regenerative production methods. White Oak Pastures tallow spread is made only from cattle holistically-raised on our pastures. We turn this beef tallow into a number of different tallow products, following the zero-waste philosophy on our farm.

Dairy-free, animal-based butter alternative
Our grassfed tallow butter currently comes in 3 oz bars (although we have plans to experiment with alternative packaging). Three different flavors are available:
The grassfed tallow butter should be stored in the refrigerator, and even at room temperature, it maintains a firmer texture and higher melting point than butter.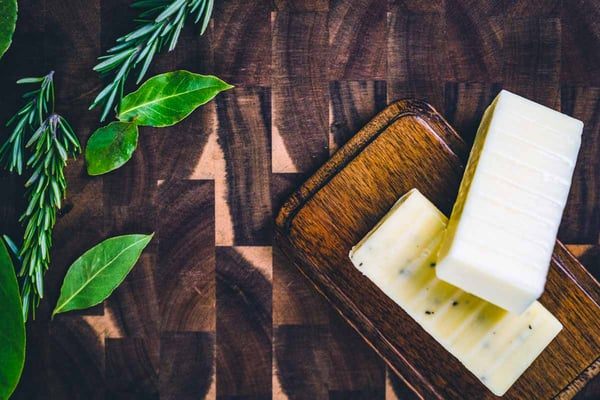 Both our new grassfed tallow butter and its porky partner Lard Have Mercy (currently in the works, stay tuned!) are products of our new commissary kitchen. While former visitors to White Oak Pastures may remember eating at the pavillion, in the last year we have moved all dining operations to our General Store and Food Truck.
The pavillion, meanwhile, has been transformed into a full commissary kitchen. This transition has grown our on-farm production capability and allows us to get even more creative with the products we offer. The commissary kitchen is another piece to the farm puzzle. Now we are humanely-raising livestock, butchering on-farm, and able to do our own value-added processing on a large scale.
The commissary kitchen is responsible for many of the amazing products we've recently added to our online store, like Hot Pepper Jelly, Roselle Jelly, Pickled Okra, and our Bone Broths. Interested in trying our latest creative addition? Check out grassfed tallow butter on our online store, and let us know in the comments below what you're using it on!