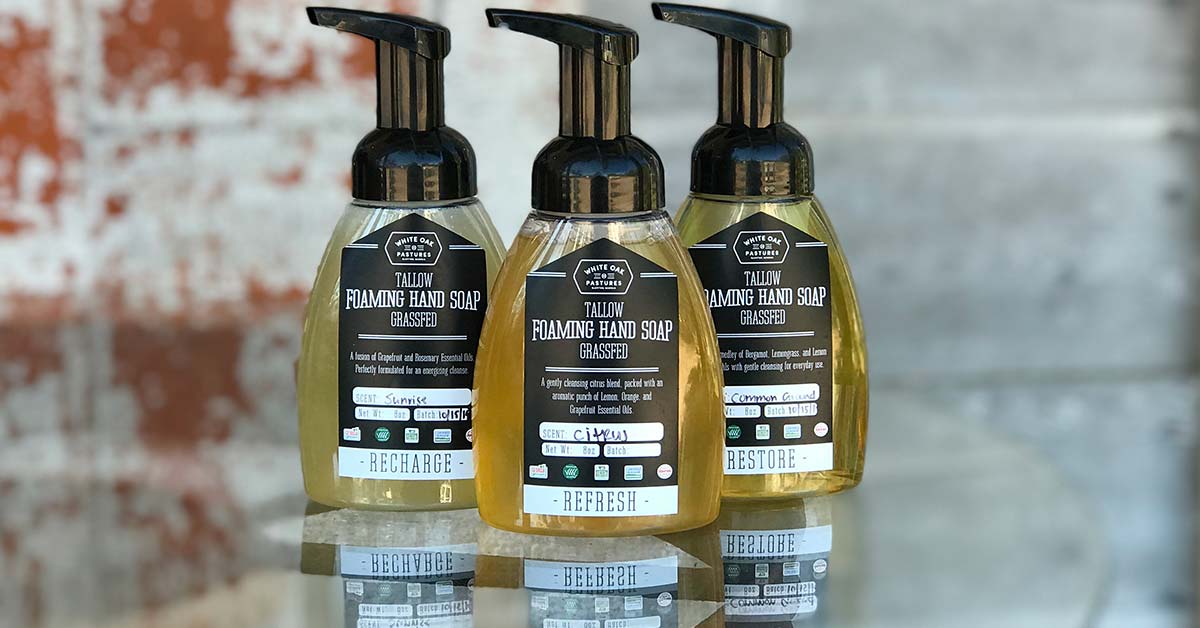 No parabens, no phtalates, no artificial colors - the new line of White Oak Pastures soaps use only our grassfed, pasture-raised, regenerative beef tallow, processed on our very own farm.
When you use our Grassfed Tallow Foaming Soap and our Grassfed Tallow Body Wash, you know that it's made entirely of 100% fat from White Oak Pastures cattle - Certified Grassfed by the American Grassfed Association, Certified Humane, rated a Step 4 in the Global Animal Partnership, and Certified EOV by the Savory Institute.
It's been said that our skin is our body's largest organ, and we believe you should follow the same principles for skincare products as you do with the foods you consume.
We've been using the same recipe for our Tallow Bar Soap for the last five years, and it's become one of our customers' favorite tallow products. It's cleansing, smells great, and lathers well throughout its long life. We don't have plans on changing our tallow bar soap recipe.
But with the popularity of our bar soap, we started thinking - what about a liquid tallow soap? Or a foaming tallow soap? We didn't see it in stores or elsewhere - so we decided to make it ourselves.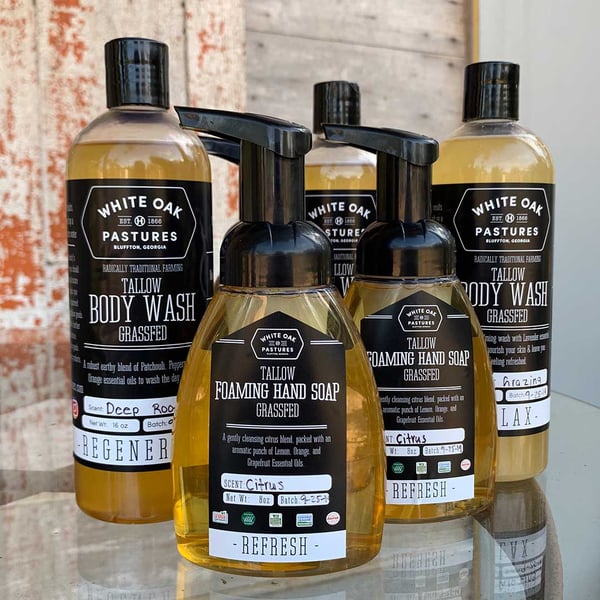 Is tallow good for your skin?
Unlike big soap companies, we do not use chemicals and additives like parabens and phtalates. It was a challenge to get the consistency, feeling, and lather that we wanted. Eventually, after a lot of experimentation with the recipe, the tallow department at White Oak Pastures arrived at a liquid tallow soap recipe that we love. We've painstakingly chosen every ingredient in our new soaps, and each ingredient has its purpose.
Our beta-testers, White Oak Pastures employees, have reported these soaps leaving their skin feeling clean, soft, and smooth, almost like they were "using lotion." Our Grassfed Tallow Foaming Hand Soap and Grassfed Tallow Body Wash work up a great lather and each come in three different essential oil-blend scents.
Citrus, Common Ground & Sunrise
Convenient 8 oz. Pump
Where can I buy tallow?
Certified Grassfed Beef Suet Fat is rendered in our on-farm tallow kitchen, ensuring that we are utilizing as much as we can of the cattle we raise. Finding ways to use this valuable ingredient by crafting it into exciting new products further develops our zero-waste initiative. Now, you can buy our meat for your dinner table and use our tallow products in your home.
Our newest liquid and foaming soaps have the benefit of being shelf-stable, so it adds to our growing line of products that can ship anywhere in the USA! From our pasture-raised snack sticks and organic pickled okra to our grassfed beef tallow, ready for cooking or baking, we are offering our customers more shelf-stable products than ever before.