Mallory Middleton, Staff Lead at the White Oak Pastures General Store, keeps our downtown Bluffton store humming along. Mallory is responsible for regular store duties - selling local Georgia products, grassfed beef tallow products, pastured meats, organic vegetables from the farm, and much more - as well as training new employees.
Mallory Middleton grew up in the southwest Georgia area, first hearing about White Oak Pastures when she was graduating high school and a friend mentioned the farm. During her time at the farm, Mallory has seen and worked with many different departments, including the Organic Garden, Tallow Department, and the Internet Fulfillment Center.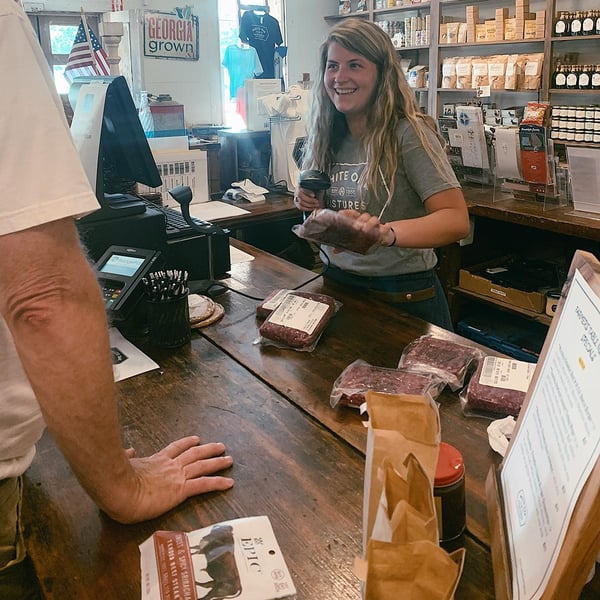 At the General Store, Mallory's average day starts with her greeting any farm employees who come in for breakfast, "making sure they start their day with a smile." There is a bit of breakfast rush at the General Store, but once that is over, Mallory starts her other responsibilities inventory checks, pricing products, filling the shelves, and a number of other tasks.
Besides maintaining the physical inventory, Mallory serves as a sort of farm store ambassador to visitors. "When a customer comes in, I explain to them what we do, tell them how they can get more involved with us, and promote our products to them," Mallory says. This is one of Mallory's favorite responsibilities at her job.
"I love when a new customer comes in because that means I get to explain what we do... It makes me feel good to hear a customer say they'll be back or they 'found their new favorite place'," she explains.
Mallory enjoys the relationships she makes in the store because she gets to meet "many new people from all over the country and even the world. They always come from different backgrounds, and most of the time I learn something from each one of them." This allows Mallory to talk to a wide range of folks about the work that White Oak Pastures does.
Mallory is from the region and has lived here her whole life. Although she doesn't enjoy the bugs and mosquitos - and needing to "drive an hour to go to the movies" - the best part of living here, for Mallory, "is knowing everyone around you and feeling like they are a friend."
Outside of work, Mallory enjoys going to the beach, spending time with family and friends, and studying for her college degree. To fuel her work at the General Store, Mallory enjoys eating anything at the farm that uses White Oak Pastures Pastured Chicken or the organic salad blend.
If Mallory could trade places with one person at White Oak Pastures for one day, she would trade places with Mr. Will Harris, to see how he spends his day. "What he has done here is amazing," she says, "and I would like to be able to know what new ideas he comes up with every day. I would also like to hear all of the interesting questions he gets."
We know that Mallory gets a lot of interesting questions - and we're happy that she's here, answering them and talking with anyone who comes in. We truly appreciate having her on the team, and we love seeing her smiling face in the General Store, especially during the morning breakfast rush!