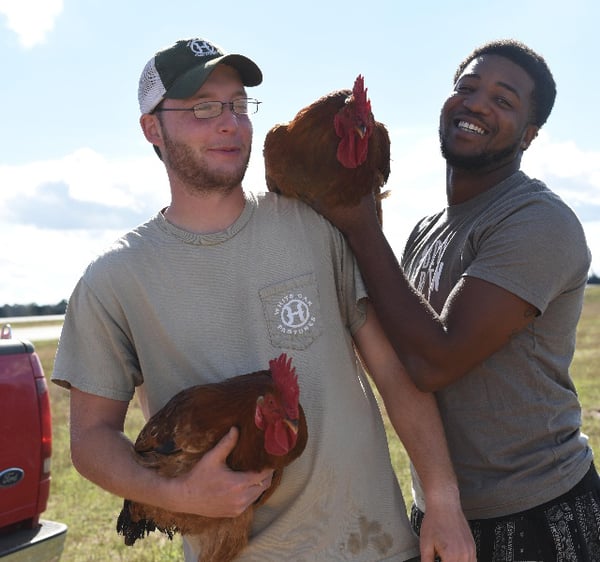 When you close your eyes and think of Mardi Gras, what do you envision? Perhaps the glamorous parades splitting the crowded streets as beads, trinkets, and doubloons are tossed from adorned participants on floats. Maybe you see the colors of purple, green and gold which signify justice, faith, and power. Some may view something dark or supernatural with images of voodoo, zombification and Papa Legba. Movies and TV shows such as Tremé, True Detective, and James Bond's "Live and Let Die" have depicted both sides of the light-hearted and darkness of Mardi Gras.
In rural communities of Louisiana, less affluent to New Orleans and Baton Rouge, individuals celebrate Fat Tuesday a bit different with less opulence but more primal traditions. Courir de Mari Gras, 'Chicken Chase' or 'Dance for the Chicken' is richly celebrated. Steeped in Acadian culture, participants adorned in tattered homemade costumes and masks gather to embark in a much different parade that dates back to French medieval times. Men and women on horseback follow behind a leader or one that is better known as a "Capitaine" down the streets. Celebrants commute door to door with permission from the homeowner to enter the yard and perform song and dance for a donation of rice, flour, spices, and vegetables. Some hosts will climb atop the roof and release a chicken for the revelers to chase in hopes to gather for the communal gumbo. In some community gatherings, a pole coated in grease stands in a pasture with a chicken in a cage affixed to the top.
During the numerous North American wars between the British and French, refugees of the Canadian Maritime provinces fled or were forcibly deported and many traveled south to the parishes between Lake Charles and Grand Isle. The Courir de Mardi Gras recalls a time when Acadians would assemble after a long hard winter when food was scarce. Participants would dress in homemade garb and masks to keep their anonymity and request food from the middle and upper class for the communal feast. While each disguise is unique, pointed hats, or capuchon, were adorned to mock the style of French aristocrats.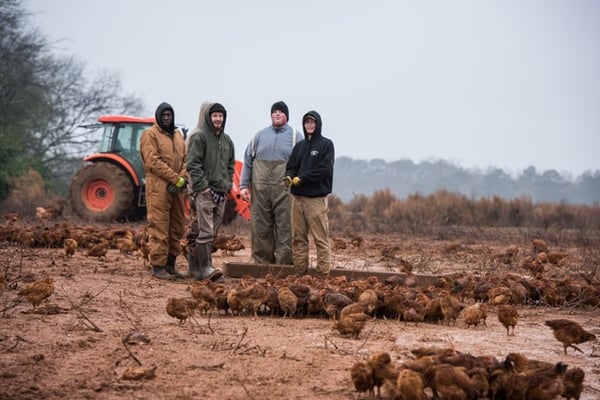 Every morning in the fields of White Oak Pastures, our poultry field crew, "chase the chicken". There are no greased poles or chaotic chases to capture but under the darkness of a four o'clock early morning, the crew carefully gathers the birds. Each bird is hand selected while abiding by our Animal Welfare guidelines to be delivered to the Poultry Abattoir.
Below you will find a recipe for a Gumbo, where you do not have to compete in the chase of a chicken or go door to door, singing and dancing to harvest your ingredients. You can find your proteins and broths with a couple of clicks from the online store, www.whiteoakpastures.com. Once your package arrives, you may do a little happy dance. Go ahead, we will not pass any judgment.
Pasture-Raised Chicken & Cajun Sausage Gumbo Recipe
By
Ban Stewart
There are countless gumbo recipes on the interweb. This particular recipe uses a whole roasted chicken and sausage. You can use any sausage you prefer but we like ours with any of these White Oak Pastures Sausages: Pork Cajun Links, Chicken Cajun Links or Pork Smoked Sausage. Okra is used as a thickening agent rather than filé powder. The dark roux is a crucial element for this recipe. Constant attention is needed to prevent burning but don't fret, place it on low-medium heat and watch the roux slowly change color with the nutty aromas.
Ingredients
1 whole medium White Oak Pastures Pastured Chicken (roasted and fully cooked)

1 cup cooking oil (vegetable or your choice, not olive oil, as it will tend to burn)

1 lb of White Oak Pastures Sausage- Pork Cajun Links, Chicken Cajun Links or Smoked Pork Sausage

1 cup chopped yellow onion

1 cup chopped green bell pepper

1 cup chopped celery

1 pound of sliced okra (fresh or frozen)

1 ½ cups All-Purpose Flour

6-8 cups of White Oak Pastures Poultry Bone Broth (keep hot in a small stock pot)

2 bay leaves

1 teaspoon minced garlic

1 teaspoon dried thyme

Salt and Pepper to taste

Creole Seasoning to taste
Season and roast the whole chicken ahead of time, let it cool completely then shred in small pieces.
In a heavy bottom stock pot, add 1 Tablespoon oil and turn heat to medium. Add sliced sausage in batches to prevent overcrowding, remove with a slotted spoon and set aside.
Add remaining oil and turn the heat to low-medium. Carefully add the flour and stir constantly. Use a squared off wooden spoon or a wire whisk. Do not allow roux to burn.
Once the roux is a dark chocolate color with a nutty smell, add the onion, peppers, and celery. Cook for 5 minutes.
Slowly add the hot chicken broth 1 cup at a time and continue to stir to prevent clumping.
Once you have the desired thickness, add the bay leaves, minced garlic, dried thyme, creole seasoning with salt and pepper.
Bring to a slow boil then reduce to a simmer, uncovered. Cook for 1 hour. Stir occasionally.
Add the chicken and sausage, cook for an additional hour. Stir occasionally.
Skim off any foam and fat that has floated to the top.
Check seasonings and adjust as needed.
Serve over cooked rice with green onions as garnish.
Prep time:
Cook time:
Total time:
Yield:
6-8