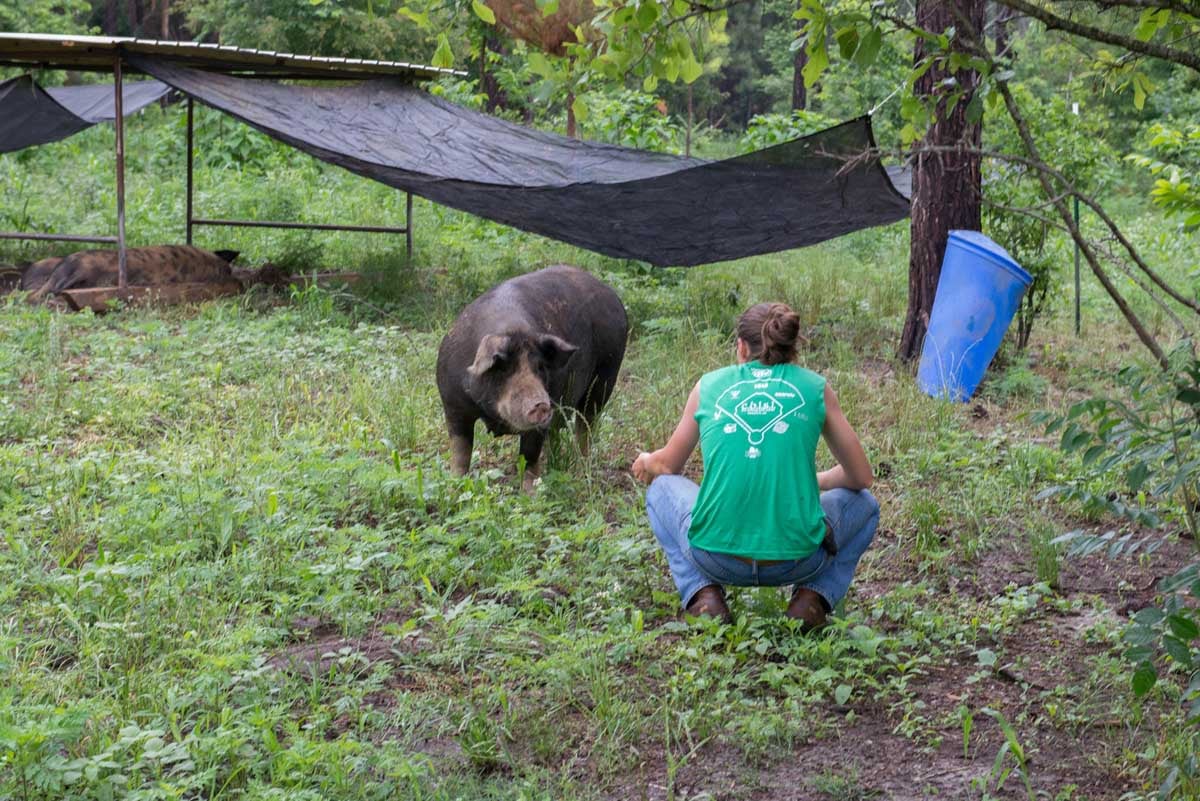 Even though she describes White Oak Pastures as "complex," that didn't deter Nichole Griffin's career change to create the life she wanted. For inspiration to follow your dreams, read what Nichole has to share.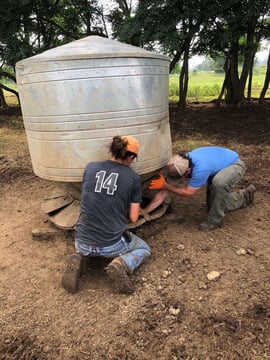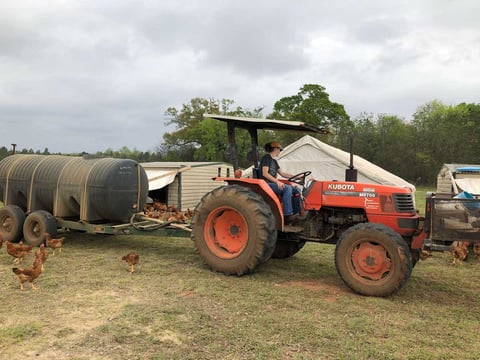 "After doing some soul-searching, I decided that I was ready to take a risk, leave the rat-race, and follow my heart towards a farming career. I did research on farms in the southeast, which is how I landed on White Oak Pastures' website. After learning about its operations, I feared that White Oak Pastures was much larger than what I was looking for. However, after reading about the family's history and watching countless Will Harris videos, something kept bringing me back. So, I submitted my resume, got on the phone with Will [Harris] and Jean [Turn], came down to visit the farm, and everyone and everything here just sucked me right in. At that point, it was a no-brainer.... This is where I was supposed to be."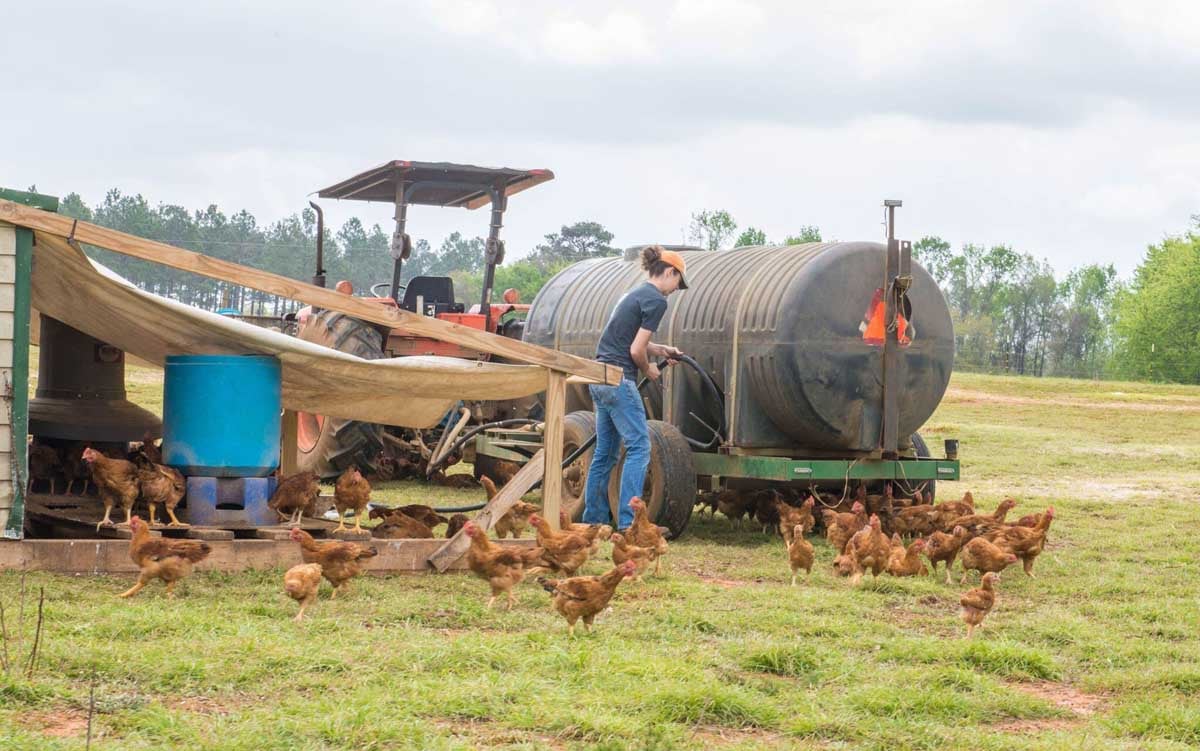 "My role is always evolving. I was hired in January 2018 to work on special accounting projects, specifically getting the farm's inventory costed." Nichole stated that her proudest moment since being at White Oak Pastures is "being able to wrap up our costing project, which was such a team effort. I think that we are all happy to have made it over that bump in the road." She also states she "helped water the broilers on the weekends and recently stepped in to help manage the hog operation. Checking on our sows that have recently farrowed, specifically being able to watch the interactions between the mothers and piglets, is my favorite daily chore.The funniest thing I've witnessed on the farm is the multiple attempts made by Ban (Quality Control Manager) and Jake (Pork Processing Manager), and myself trying to lasso a hog, for a good cause, of course. One of our market hogs couldn't close it's mouth because there was a foreign object stuck in its gums. Finally, at about "round 25", Jake succeeded!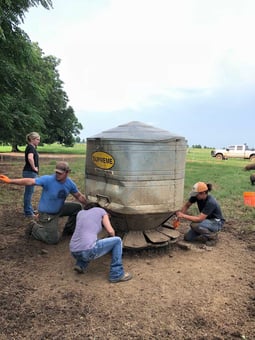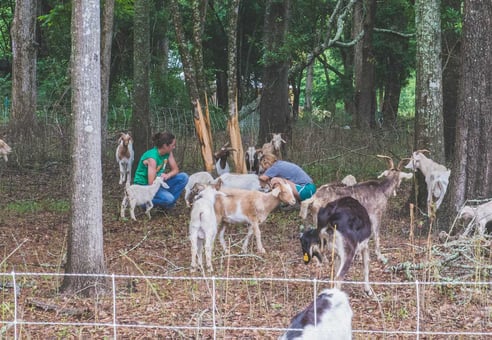 I have also been involved with the farm's EOV (Ecological Outcome Verification) program and have assisted Graham Phillips (Regenerative Land Manager) in monitoring the quality of White Oak Pastures' pastures. Finding the time to accomplish all the things I want to in a single day is my biggest challenge." If Nichole could trade places with someone on the farm for one day, it would be "Cedric, on the kill floor, because he plays such an integral role in bringing our red meat to market. I think being able to encounter an animal's last breath before issuing the captive bolt and knowing that you ensured respect and humane treatment to the end, would be a pretty incredible experience. But overall, just knowing that every day, I get to be a part of such an influential, diverse, extraordinary place in this remote part of the world is the most satisfying part of my job. Being close to my family, being in the middle of nowhere, away from the hustle and bustle of the city life, yet being close enough to visit when I get the urge is the best part of living in south Georgia. The worst part? By far, the gnats."
Nichole states that her favorite hobby outside of work is "eating, or cooking and then eating." I've seen her patience and diligence first-hand while she stood over a gas-burning stove preparing one of the most delicious meals I've ever had. But, her favorite food is a toss-up between grilling White Oak Pastures' chicken halves or frying up our bulk-pork country sausage. However, when she is eating on the farm, her favorite is Amanda's Red Velvet Oreo Cheesecake. I think it's safe to say that family, farming, and food all played a part in her interest in White Oak Pastures. She has brought many skills and valuable contributions to the farm in the short time that she has been here, and for that, we are grateful!