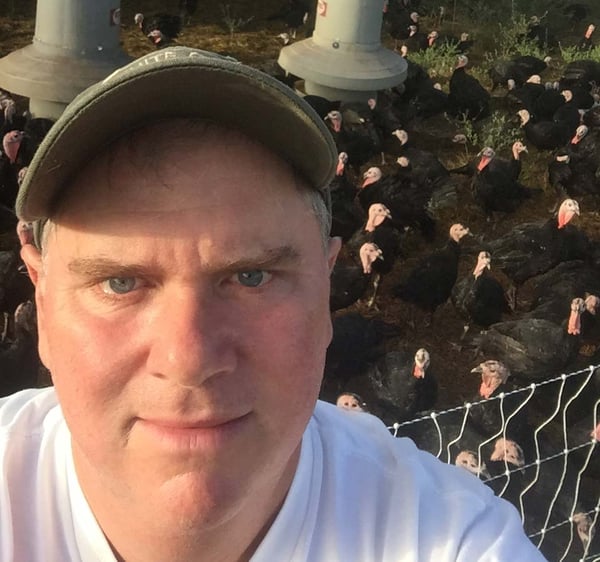 Mark Harrison grew up working on his "Grandpa's" farm, as well as surrounding farms before his detour through another field - the field of real estate development. "After the crash in 2008, I returned to a simpler way of life and started farming again. I have been practicing regenerative farming and humanely raising animals for years."
Mark's parents and his brother live in northeast Georgia in a town called Tiger. "After watching videos of White Oak Pastures' farming history and goals, I offered my services and was hired as the poultry production manager in March 2018. My partner, Michael Meilak and I then moved to Blakely, Georgia. The best part of South Georgia is the sense of community, but the worst is no high-speed internet or phone service."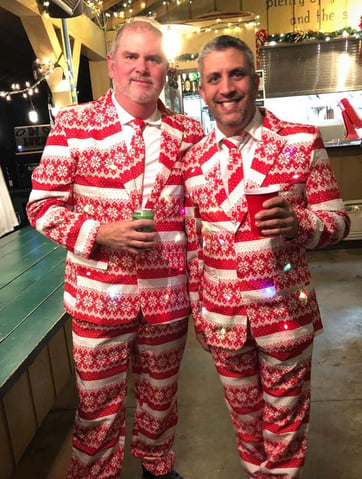 "As the poultry production manager, I am responsible for the safeguarding of approximately 30-40,000 'beating hearts' of live poultry animals daily." Mark ensures that we have enough poultry to meet production needs, which was a challenge due to the loss we suffered from Hurricane Michael. He describes White Oak Pastures as "innovative" and says that he enjoys seeing our farm's continual progress toward its mission of improved animal welfare, holistic regenerative farming and its commitment to community redevelopment.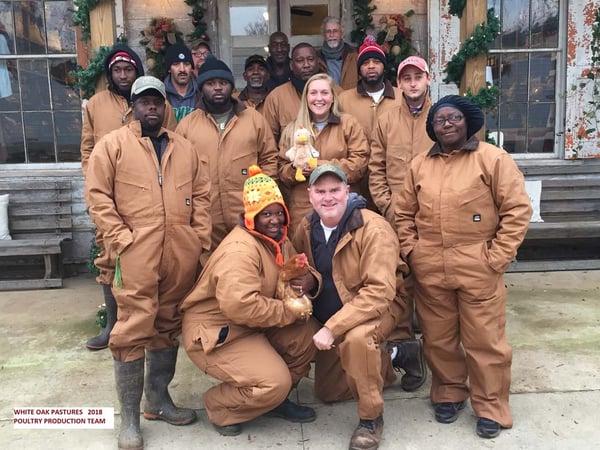 After Mark's favored morning meeting ritual with his enthusiastic crew, he shares that the challenge is staying focused on one project with so many different experiences occurring each day. "It's easy to become distracted". Mark thinks the funniest thing he has witnessed on the farm is not a thing, but in fact, a person: BAN STEWART. Ban, with his infectious laugh, or giggle, and his charmingly disheveled "bed-head" hair, is our Quality Control Manager who works endlessly in all departments to keep the farm running smoothly and the employees upbeat and positive.
Mark is proud of the fact that two members of his team have been named Employee of the Month. While Mark enjoys what he does and enjoys spending his free time working on his personal farm, he states, "I am very intrigued with Amber Harris and the leather, tallow, and pet treat operation she manages." Seeing the farm work toward being a zero-waste facility is rewarding and interesting.
It's no surprise that when asked about his favorite food to cook at home, Mark says, "ALL poultry products, especially the chicken breasts." When dining in our Pavilion, his favorite is the Farmer John Salad. Now, the only "Farmer John" that I am familiar with is our specialty burger named after John Benoit, our Livestock Manager. So, I called our Dining Pavilion manager, LaShona Butler, to verify this "Farmer John Salad". Once John requested a bacon cheeseburger with greens, grilled onion, A FRIED EGG, rosemary, garlic, and aioli, the Farmer John Burger was born. Now we have the Farmer John Salad, at Mark's request, which LaShona explained is literally a Farmer John Burger sitting on top of a White Oak Pastures' salad. So, obviously, Mark's contribution to White Oak Pastures is not JUST in the poultry production department, and from what I have learned thus far, I can't wait to see what is coming down the pipes!